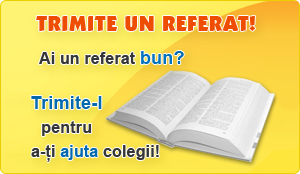 Stiati ca ...
Cel mai lung fluviu din Europa este Volga si apoi Dunarea. Volga masoara 3.534 km lungime.
› vrei mai mult
Horoscopul zilei
Fecioara
(23 August - 21 Septembrie)
Azi ai chef de citit, sa fii la curent cu noutatile, vei avea si vesti bune. In dragoste totul descurge asa cum iti doresti.
› vrei zodia ta
Referatele si lucrarile oferite de Clopotel.ro au scop educativ si orientativ pentru cercetare academica.
Referate din Engleza
Sorteaza referate:
Data

Note

Accesari

Download-uri

Germany (/ˈdʒɜːrməni/; German: Deutschland [ˈdɔʏtʃlant]), officially the Federal Republic of Germany (German: Bundesrepublik Deutschland, is a federal parliamentary republic in West-Central Europe. It includes 16 constituent states and covers an area of 357,021 square kilometres...
My name is Michael and tenth grade student at High School. I want to say that so far I've been a very good boy. This year should really come and me.

To see as merit gifts to you, to show you what I did this year personally and professionally. I wrote, I read, I learned, I took notes (better, worse), I worked, I...
Give arguments to support your ideas.


In our society, normal people tend to treat the ones with disabilities with despise and mistrust, thinking they will never manage to succeed. There is a small number of jobs allocated to those who have a handicap and this way the chance to obtain a success in a domain...
Mihai Eminescu was born in 15 January 1850 at Botosani. He was the 7th of the 11 childs of Gheorghe Eminovici. He spent his childhood at Botosasi and Ipotesti in his parent's house and outdoors, in a total freedom in moves, and touch with peple and nature. Eminescu evoked this state with deep nostalgy in his later poems:...
Wales

The Red Dragon, part of the national flag design, is also a popular Welsh symbol. The symbol of the dragon is populary supposef to have been the battle standard of King Arthur and other ancient Celtic leaders; This myth is likely to have originated from tale of Merlin's vision of a Red and Ehite dragon...
New York is the most populous city in the United States and the center of the New York metropolitan area,which is one of the most populous urban areas in the world , called the heart of America.

The city is divided in five areas: The Bronx, Brooklyn, Manhattan,Queens and Staten Island. Much of...
The Aviators' Monument is located in the Aviators' Square, on Aviators' Boulevard, Bucharest, Romania. It was built between 1930 and 1935 by the architect and sculptress Lidia Kotzebuie and by Iosif Fekete.
The structure, 20 m high, is made up of bronze sculptures resting on an obelisk -shaped stone pedestal, which in...