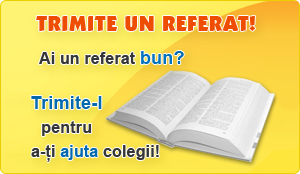 Stiati ca ...
Leul este regele felinelor nu doar datorita infatisarii lui ci pentru ca traieste in grupuri sociale foarte bine organizate.
› vrei mai mult
Horoscopul zilei

Balanta
(22 Septembrie - 22 Octombrie)
Cativa prieteni iti vor face o vizita. Fii pregatit/a sa-i primesti cum se cuvine.
› vrei zodia ta
Referatele si lucrarile oferite de Clopotel.ro au scop educativ si orientativ pentru cercetare academica.
Referate din Engleza
Sorteaza referate:
Data

Note

Accesari

Download-uri

"You're sleeping – in a coffin?!" he spluttered, quite against his will.

"My dear," I replied patiently, "this is only a bed with a lid. So I might lock myself inside and feel safe when I sleep. There is nothing so unusual about that."

He took a deep breath then and stepped a little closer, looking...
The proverb "A friend in need is a friend indeed" is one of the most known proverbs, and it teaches you that a real friend is a person who is there for you when you need him, it helps you when you have a problem, it keeps your secrets, shares things with you, bares you with all your qualities and defects. Of course, you have...
This is a story about a very special little child, who, unifortunately, was a very poor little boy.His parents had no money to buy him toys or candies just as the other parents do for their children. He also had brother and two little sisters. As he was the eldest one among his brother and sisters, he decided to write to...
A person I admire very much is Bill Clinton. Bill Clinton is one of the most famous and loved American presidents being elected twice to be the ruler of the most impressive power on Earth.
Clinton has decided at an early age to become a politician and in 1978, at the age ofthirty two, he became the youngest governor in...
As with almost all "Christian" holidays, Easter has been secularized and commercialized. The dichotomous nature of Easter and its symbols, however, is not necessarily a modern fabrication.

Since its conception as a holy celebration in the second century, Easter has had its non-religious side. In fact, Easter was...
I Introduction

Easter, annual festival commemorating the resurrection of Jesus Christ, and the principal feast of the Christian year. It is celebrated on a Sunday on varying dates between March 22 and April 25 and is therefore called a movable feast. The dates of several other ecclesiastical festivals,...
Berlin, city in northeastern Germany, capital of a united Germany from 1871 to 1945 and again since 1990. It lies on the flatlands of the North German Plain at the confluence of several rivers and amid many lakes. The city's slight elevation made it a site for human settlement even in prehistoric times. Berlin has a...