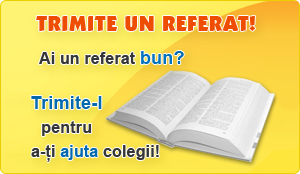 Stiati ca ...
Teritoriul Angliei este locuit de multi, multi ani, asa ca, la inceputul secolului al XVI-lea, a inceput sa fie criza de locuri de veci. Solutia a fost scoaterea sicrielor mai vechi, depunerea osemintelor in niste depozite si refolosirea spatiului pentru un mort "proaspat". La deschiderea vechilor sicrie s-a constatat ca unul din 25 era zgariat de unghii pe interior. Dindu-si seama ca unii semeni ai lor au fost ingropati de vii, englezii au inventat un mecanism de salvare a celor ingropati de vii. De mana "mortului" era legata o sfoara, care, printr-o gaura in sicriu, era legata la un clopotel, montat langa mormant. Patrulele din cimitir supravegheau clopoteii. De aici vine vorba "saved by the bell" ("salvat de clopotel").
› vrei mai mult
Horoscopul zilei

Berbec
(21 Martie - 20 Aprilie)
Simti ca cel/cea mai buna/a prieten/a a ta te ignora de o buna bucata de timp. Trebuie sa porti o discutie serioasa pe aceasta tema pentru a afla ce anume o/il supara.
› vrei zodia ta
Referatele si lucrarile oferite de Clopotel.ro au scop educativ si orientativ pentru cercetare academica.
Referate din Engleza
Sorteaza referate:
Data

Note

Accesari

Download-uri

Romeo & Juliet was written during a period when Shakespeare had found the strength of his writing. He would have been about 26 years old when he wrote it. It stands as a great play in its own right. Romeo & Juliet is believed to have been written around 1595. The Nurse in the play refers to "an earthquake eleven years past...
English food has traditionally been based on beef, lamb, pork, chicken and fish and generally served with potatoes and one other vegetable. The most common and typical foods eaten in England include the sandwich, fish and chips, pies like the cornish pasty, trifle and roasts dinners. Some of our main dishes have strange names...
Washington, D.C., city and district, capital of the United States of America. The city of Washington has the same boundaries as the District of Columbia (D.C.), a federal territory established in 1790 as the site of the new nation's permanent capital. Named after the first U.S. president, George Washington, the city has...
Every February, across the country, candy, flowers, and gifts are exchanged between loved ones, all in the name of St. Valentine. But who is this mysterious saint and why do we celebrate this holiday? The history of Valentine's Day -- and its patron saint -- is shrouded in mystery. But we do know that February has long been a...
TIMPURILE VERBELOR LIMBII ENGLEZE

Timpul
Forma
Cum se formează
Mențiuni
The present tense
simple Aff.
Neg.
Int. S + vb(prima formă)
S + don t/doesn t + vb(prima formă)
Do/Does + s + vb (prima formă

____________________
Ex:I always go to school every...
For centuries individuals or societies have used clothes and other body adornment as a form of nonverbal communication to indicate occupation, rank, gender, sexual availability, locality, class, wealth and group affiliation. Fashion is a form of free speech. It not only embraces clothing, but also accessories, hairstyles,...
With a population of just under eight million, and stretching more than thirty miles at its broadest point, London is by far the largest city in Europe. It is also far more diffuse than the great cities of the Continent, such as Rome or Paris. The majority of the London's sights are situated to the north of the River Thames,...