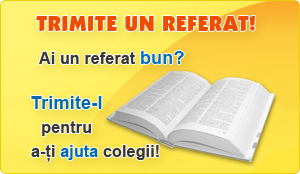 Stiati ca ...
Un pui abia nascut de balena albastra e lung cat o poarta de fotbal si cantareste cat un hipopotam mare. In sapte luni, el creste de doua ori in lungime, iar la varsta de un an cantareste de opt ori mai mult decat la nastere.
› vrei mai mult
Referatele si lucrarile oferite de Clopotel.ro au scop educativ si orientativ pentru cercetare academica.
Fast food history 2

Publicitate:
Trimis de Roman Costin
din 20 Aprilie 2007
Chocolate brownies
I've had a couple of emails asking for a brownies recipe to accompany the blondies I posted here a few weeks ago. Your wish, dear reader, is my command.These brownies are very easy to make. They're squodgy, squishy, chocolatey and have that lovely caramel-nut flavour that only toasted pecans can give. It's very easy to adapt this recipe - if you want to try toasted hazelnuts instead of the pecans, or to add some chocolate chips, you have my blessing.

For families who fight over the slices of brownie which have come from the edge of the tin (the pieces with a crisp, chewy edge and a wonderful gradation of softness into the middle), there's a solution to your problems: the Edge Brownie Pan. This baking tin is designed like paths in a maze, and ensures that every slice of brownie you bake has at least two edges. (The cook deserves the pieces with three.) I really must buy one of these.

Use a chocolate which has as high a percentage of cocoa solids as you can find. To make a large tray (mine measures 10 x 14 inches, just right for making enough brownies for a party), you'll need:

1 pat salted butter (8 oz, or 110 g)
4 oz (100g) plain dark chocolate, high in cocoa solids
4 eggs
1 lb (450g) caster sugar
4 oz (100g) plain flour
2 teaspoons baking powder
1 teaspoon vanilla essence
Pinch of salt
6 oz (150g) toasted pecan nuts

You can toast the nuts yourself in a dry frying pan over a medium flame. Watch carefully to make sure the nuts do not burn - they can turn from nicely toasted to bitter and burned in moments.

Preheat the oven to 180° C (350°F).
Melt the butter and chocolate together. You can use the microwave or a bowl suspended over some boiling water (a bain marie).While the butter and chocolate are melting, beat the eggs, vanilla, salt and sugar together with the vanilla essence, and line a baking tin with greaseproof paper. Stir the chocolate mixture into the egg mixture and sieve the flour into the bowl. Stir until everything is well blended.

Turn out the brownie mix into the lined tin, and sprinkle the pecans over the raw batter. (I prefer to add the pecans to the mix when it's in the tray rather than adding them in the bowl, as it means you'll get a more even distribution.)Bake in the oven for about 30 minutes, until the mixture starts to come away from the sides and the top has a dry, crackling look to it. It will still be soft in the centre.

While the brownies are still hot from the oven, divide into squares. After about ten minutes they will have firmed up enough to transfer to racks to cool.Dr Weasel's lemon raspberry cake .Dr Weasel, my fine and upstanding husband, has an uncontrollable urge to bake about once a year. This year's annual cake orgy has just taken place - he made several for a shared birthday party at work, where twenty ageing computer programmers played competitive Dance Dance Revolution in the office and ate cake at each other.

There were cupcakes, a couple of chocolate cakes, trays of brownies and this lemon raspberry confection. This particular cake was going to be a nice short semolina sponge, sliced across and glued together with jam and whipped cream. Unfortunately, it didn't really rise enough in the middle to be sliced in two across the bottom successfully, but Dr Weasel, undaunted, raided the fridge and made one of the best quick cake toppings I've tried. He successfully disguised any sag in the middle, created something quite delicious, and ended up with something nearly as popular as my brownies. I am shocked. Has he been having lessons while I've not been looking?

This cake will work just as well if your semolina sponge rises better than Dr Weasel's did (I think his egg whites were not whipped sufficiently - it still tasted brilliant, though). You'll need:

4 oz (100 g) caster sugar
2 oz (50 g) fine semolina
1 oz (15 g) ground almonds
3 separated eggs
Juice and zest of a lemon
5 fl oz (150 ml) whipping cream
5 tablespoons lemon curd
Fresh raspberries to cover (about a punnet)

Preheat the oven to 180° C. Grease and line a round cake tin.

Whisk the egg yolks and sugar together with an electric whisk until they are pale and frothy. Add the lemon juice and keep whisking until the mixture thickens. Fold in the lemon zest, semolina and almonds.

Clean the blades of the whisk very carefully to remove any trace of egg yolk. In a different bowl, whisk the whites of the eggs until they form soft peaks. Fold the beaten whites into the semolina and yolks mixture, turn into your lined cake tin and bake for about 30 minutes until golden (and, hopefully, risen).

When cool enough to handle, turn the cake out onto a wire rack and cool completely. Meanwhile, whisk the cream until it is stiff, fold in the lemon curd and use a palate knife to spread the thick lemon cream over the top of the cake. Stud the surface with raspberries and serve in slices.

Save Oriental City!
I've written about Oriental City here a co...
Atentie : Textul de mai sus este doar un preview al referatului, pentru a vedea daca continutul acestui referat te poate ajuta. Pentru varianta printabila care poate sa contina imagini sau tabele apasa butonul de 'download' !!!

X
Raporteaza-ne problema !
Te rugam sa ne spui ce problema ai intampinat cu acest referat. Prin contributia ta acest site va deveni cea mai tare resursa de referate online din Romania. Iti multumim pentru sprijinul acordat!