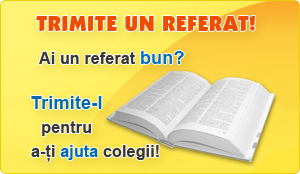 Stiati ca ...
Diamantul se formeaza cand carbonul este supus unei presiuni si temperaturi deosebit de mari.
› vrei mai mult
Referatele si lucrarile oferite de Clopotel.ro au scop educativ si orientativ pentru cercetare academica.
Education in the US

Publicitate:
Trimis de Aurel
din 06 Aprilie 2009
Role of Education

The United States has one of the most extensive and diverse educational systems in the world. Educational institutions exist at all learning levels, from nursery schools for the very young to higher education for older youths and adults of all ages. Education in the United States is notable for the many goals it aspires to accomplish—promoting democracy, assimilation, nationalism, equality of opportunity, and personal development. Because Americans have historically insisted that their schools work toward these sometimes-conflicting goals, education has often been the focus of social conflict.
While schools are expected to achieve many social objectives, education in America is neither centrally administered nor supported directly by the federal government, unlike education in other industrialized countries. In the United States, each state is responsible for providing schooling, which is funded through local taxes and governed by local school boards. In addition to these government-funded public schools, the United States has many schools that are privately financed and maintained. More than 10 percent of all elementary and secondary students in the United States attend private schools. Religious groups, especially the Roman Catholic Church, run many of these. Many of America's most renowned universities and colleges are also privately endowed and run. As a result, although American education is expected to provide equality of opportunity, it is not easily directed toward these goals. This complex enterprise, once one of the proudest achievements of American democracy because of its diversity and inclusiveness, became the subject of intense debate and criticism during the second half of the 20th century. People debated the goals of schools as well as whether schools were educating students well enough.

History of Education in America

Until the 1830s, most American children attended school irregularly, and most schools were either run privately or by charities. This irregular system was replaced in the Northeast and Midwest by publicly financed elementary schools, known as common schools. Common schools provided rudimentary instruction in literacy and trained students in citizenship. This democratic ideal expanded after the Civil War to all parts of the nation. By the 1880s and 1890s, schools began to expand attendance requirements so that more children and older children attended school regularly. These more rigorous requirements were intended to ensure that all students, including those whose families had immigrated from elsewhere, were integrated into society. In addition, the schools tried to equip children with the more complex skills required in an industrialized urban society.
Education became increasingly important during the 20th century, as America's sophisticated industrial society demanded a more literate and skilled workforce. In addition, school degrees provided a sought-after means to obtain better-paying and higher-status jobs. Schools were the one American institution that could provide the literate skills and work habits necessary for Americans of all backgrounds to compete in industries. As a result, education expanded rapidly. In the first decades of the 20th century, mandatory education laws required children to complete grade school. By the end of the 20th century, many states required children to attend school until they were at least 16. In 1960, 45 percent of high school graduates enrolled in college; by 1996 that enrollment rate had risen to 65 percent. By the late 20th century, an advanced education was necessary for success in the globally competitive and technologically advanced modern economy. According to the U.S. Census Bureau, workers with a bachelor's degree in 1997 earned an average of $40,000 annually, while those with a high school degree earned about $23,000. Those who did not complete high school earned about $16,000.
In the United States, higher education is widely available and obtainable through thousands of private, religious, and state-run institutions, which offer advanced professional, scientific, and other training programs that enable students to become proficient in diverse subjects. Colleges vary in cost and level of prestige. Many of the oldest and most famous colleges on the East Coast are expensive and set extremely high admissions standards. Large state universities are less difficult to enter, and their fees are substantially lower. Other types of institutions include state universities that provide engineering, teaching, and agriculture degrees; private universities and small privately endowed colleges; religious colleges and universities; and community and junior colleges that offer part-time and two-year degree programs. This complex and diverse range of schools has made American higher education the envy of other countries and one of the nation's greatest assets in c...
Atentie : Textul de mai sus este doar un preview al referatului, pentru a vedea daca continutul acestui referat te poate ajuta. Pentru varianta printabila care poate sa contina imagini sau tabele apasa butonul de 'download' !!!

X
Raporteaza-ne problema !
Te rugam sa ne spui ce problema ai intampinat cu acest referat. Prin contributia ta acest site va deveni cea mai tare resursa de referate online din Romania. Iti multumim pentru sprijinul acordat!