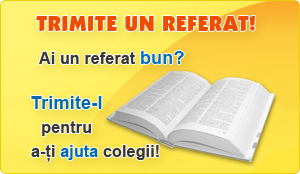 Stiati ca ...
Kriptonul (Kr) este un element chimic gazos. Kriptonul este un gaz nobil si rar, cunoscut pentru faptul ca este incapabil sa se asocieze intr-o maniera stabila cu alte elemente chimice. Kriptonul este folosit la umplerea becurilor cu incandescenta sau pentru a detecta scurgerile din containerele industriale sigilate. Kriptonul nu are legatura cu kriptonita, acel cristal verde din benzile desenate, ce are un efect nociv asupra lui Superman. Acel cristal verde este doar fictiune.
› vrei mai mult
Referatele si lucrarile oferite de Clopotel.ro au scop educativ si orientativ pentru cercetare academica.
Berlin - Engleza

Publicitate:
Trimis de Aurel
din 08 Aprilie 2009
Berlin, city in northeastern Germany, capital of a united Germany from 1871 to 1945 and again since 1990. It lies on the flatlands of the North German Plain at the confluence of several rivers and amid many lakes. The city's slight elevation made it a site for human settlement even in prehistoric times. Berlin has a population of about 3,454,200 (1992 estimate) and an area of approximately 889 sq km (343 sq mi).

After World War II (1939-1945) Berlin, badly damaged during the war, was situated within the German Democratic Republic (GDR; also known as East Germany). The city was subsequently partitioned into East Berlin and West Berlin. The divided city not only symbolized the collapse of the German Empire, of which it was the capital, but also became a focus of Cold War tensions between the Communist nations led by the Union of Soviet Socialist Republics (USSR) and the group of Western nations led by the United States. The Berlin Wall, a barrier separating East and West Berlin built by the East Germans in 1961, blocked free access in both directions until November 1989; during the time it stood, at least 80 people died attempting to cross from East to West Berlin. By the time Germany was unified in October 1990, much of the wall had been torn down. A few small segments remain as memorials.

Economy
Following the division of the city of Berlin in 1949, the economies of the two halves of the city were integrated into the economies of the two newly separated republics of Germany.

The economy of East Berlin was totally integrated with that of East Germany and also benefited from a steady stream of visitors from West Berlin and West Germany. East Berlin was the hub of East Germany's commercial, financial, and transportation systems, and, although it comprised less than one-half of the former unified city, it was also a huge manufacturing center. Among its principal manufactures were steel and rubber goods, electrical and transportation equipment, chemicals, and processed food. The Spree River, which is connected by waterways with the Baltic Sea, widened in East Berlin to form a major inland harbor. An airport at Schönefeld, just south of the city, served both East and West Berlin.

Much of West Berlin's industrial capacity was destroyed in World War II, and its economy suffered again during 1948 and 1949, when the USSR blockaded the area in an attempt to drive out the Western powers. Beginning in the 1950s, however, West Berlin's economy was revitalized with a great deal of assistance from West Germany and from the United States, which provided support under the European Recovery Program (Marshall Plan). The city soon became an important manufacturing center, producing electrical and electronic equipment and substantial quantities of machinery, metal, textiles, clothing, chemicals, printed materials, and processed food. The city also developed as a center for international finance, for research and science, and for the important West German film industry. It was linked to West Germany by highways, canal systems, a railroad, and airplane services, which used Tegel, Tempelhof, and Gatow airports in West Berlin and Schönefeld airport in nearby East Germany.

With the destruction of the Berlin Wall in 1989 the two halves of the city were once again physically integrated. Their economic integration became official in July 1990. East Berlin underwent a greater economic upheaval, with many formerly state-owned businesses succumbing to privatization.

While reunification (Die Wende, or "the change") allowed many families and friends long separated by the Berlin Wall to reunite, it also brought with it numerous economic and social problems. Berlin has been forced to deal with housing shortages, strikes and demonstrations, unemployment, and increases in crime and right-wing violence against foreigners. Unification costs in Germany have led to increased taxes, reduced government subsidies, and cuts in social services.
Points of Interest

The imposing Brandenburg Gate (1788-1791), inspired by the Propylaea of the Acropolis in Athens, Greece, is located at the western end of Unter den Linden, a famous boulevard in Berlin that extends east to Museum Island, in the Spree River; the Brandenburg Gate was closed to free access until December 1989. On or near the boulevard are the classical-style State Opera House (1743); the State Library (1774-1780); the baroque Arsenal building (1695-1706; designed by Andreas Schlüter), now housing a historical museum; Saint Hedwig's Cathedral (1747-1773); the Gothic Church of Saint Nicholas (late 14th-early 15th century); the French Cathedral of the Platz der Akademie area, the heart of the French quarter in the 17th century; and the University of Berlin (1810), whose faculty has included 27 Nobel Prize winners and philosopher G. W. F. Hegel. Well-known streets crossing Unter den Linden are the Friedrichstrasse and the Wilhelmstrasse, on which once stood the Reichschancery o...
Atentie : Textul de mai sus este doar un preview al referatului, pentru a vedea daca continutul acestui referat te poate ajuta. Pentru varianta printabila care poate sa contina imagini sau tabele apasa butonul de 'download' !!!

X
Raporteaza-ne problema !
Te rugam sa ne spui ce problema ai intampinat cu acest referat. Prin contributia ta acest site va deveni cea mai tare resursa de referate online din Romania. Iti multumim pentru sprijinul acordat!